Important information relating to coronavirus (COVID-19)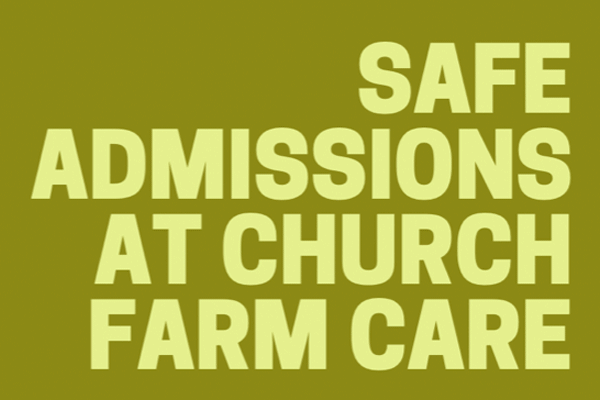 Church Farm Care in response to the change in visiting guidance commencing Monday 31 January 2022 will:
Support and welcome unlimited visitors into our homes.
We request that:
· Visitors continue to present a negative LFT test for each visit in line with the continued requirements for our staff.
· Visits to take place in the family members bedroom to avoid too many people in the lounges at any one time.
· Visitors to continue wearing face masks in line with the continued requirements for our staff.
We are open to visitors and admissions and we're doing it safely.
Plenty of Personal Protective Equipment for all - we acted quickly and early and we've always had plenty of PPE
Robust Infection Control Procedures - and we've employed extra housekeeping staff.
Experienced Leaders and Managers - early on the the pandemic the quick thinking actions of our lead nurse at Skylarks saved the lives of 13 people who live with us. Read more here where we were featured in the national press
Whole home testing - All our members of staff are tested 3 times a week, and everyone that lives with us is tested monthly to ensure we keep everyone safe.
We brought a mini-bus so staff don't have to use public transport to get to work.
Covid-19 Vaccine for all staff and everyone who lives with us.
We keep everyone connected through many different channels, including Facebook, Private Facebook Groups, Instagram, Newsletters, Skype, Zoom, Teams, and Phone Calls.
Extra Infection Control Training for all Staff
Covid Steering Group - Led by our Head of Operations, this group comprises senior managers from across the business who meet regularly to review and further develop our plans, reflecting the evolving situation. The steering group meet regularly and is monitoring and reacting to the latest guidance issued by the UK Government and Devolved Administrations, the NHS, and public health bodies.
For comprehensive information about the coronavirus itself, please visit either the GOV.UK or NHS websites, or if you are concerned you or someone you are in contact with has coronavirus call 111.